Professional development: Getting over the hump!
David Bar-Tzur
Created 8/15/2001, links updated monthly with the help of LinkAlarm.


Audiotapes


CDs, DVDs, and videotapes


Deaf events


Do-it-yourself


Education


Mailing lists, user groups & chat rooms


Mentoring


Online teaching and learning


Organizations


Outside assessment and certification


People


Periodicals and articles


Web sites


Workshops and conferences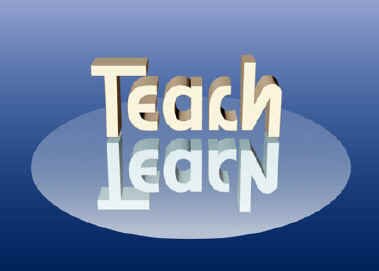 Teaching
There's a reason why you can get CEU's (Continuing Education Units) from RID for teaching a class. It's because in teaching you yourself learn. It channels your thinking when you try to express ideas you believe you already have clear in your head. The questions that your students will ask will also make you think about matters that have lain dormant or undeveloped in your mind. Below are some workshops that I have taught in the past (and am available to teach in the future, wink, wink). You are welcome to use them to teach your own workshops as long as you leave my name on the materials. It goes without saying, developing your own will also be beneficial for you.
Information on teaching classes

Bar-Tzur, D.

Eighinger, L. Keeping PACE: Performance Assessment for Career Enhancement. A general article on the proper design of in-service trainings.
Information on teaching workshops

Simon, J. H. (2003). Manual: How to coordinate and host a successful workshop OR How not to get lost in the details. This is a downloadable .pdf file.
Master's Degree in Interpreting Pedagogy

Master's in Interpreting Pedagogy.