Signs for technical/specialized vocabulary
David Bar-Tzur
Links updated monthly with the help of LinkAlarm.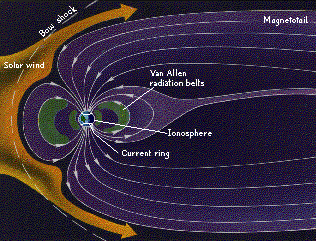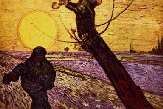 Van Allen belt perturbed by solar wind1; Le Semeur by Vincent Van Gogh.2
EXPLANATION OF THE GLOSSING SYSTEM
(to understand how I describe the signs in this dictionary).
For content knowledge of how to use the physics terms in context, see Guided tutorial in physics for interpreters.
For negotiating and developing temporary signs, see Preparation and sign negotiation
For vocabulary lists to determine helpful signs for a specific discipline, see Vocabulary lists by topic.
---
vaccinate

(1) [L] moves towards location of shot and touches it with FT of index finger while thumb closes like firing a gun. For a QuickTime movie of this sign, see ASL browser - vaccinate. (2) [3:] closes while injecting arm.

vacuole

V-A-C-U-O-L-E.

vacuum

~ (devoid of material)

V-A-C-U-U-M.

~ (cleaner)

[5^], PO down, FO away, closes and moves out from under NDH [Bb], PO down, FO > DS, twice while mouthing huphup.

~ (use ~ cleaner)

[5^], PO down, FO away, closes and moves out from under NDH [Bb], PO down, FO > DS, twice while mouthing huphup + [S] moves as if vacuuming the floor.

vacuum cleaner

[5^], PO down, FO away, closes and moves out from under NDH [Bb], PO down, FO > DS, twice while mouthing huphup.

vacuum fluoreccent

V-F.

vacuum tube voltmeter

V-T-V-M.

vagina

~

(2h)[L], PO down (roughly) tap index to index and thumb to thumb twice. For a QuickTime movie of this sign, see ASL browser - vagina.

burning sensation in one's ~

NDH [L], PO > signer, FO down, represents vagina and DH moves in vertical circle, alt. opening to a wiggling [5] and closing to [S], while remaining in contact with index finger of NDH.

discharge from ~

NDH [L], PO > signer, FO down, represents vagina and DH [4], PO > signer, FO > NDS, moves down to show point of origin of discharge and direction.

itching sensation in one's ~

Use FTs of [5:] to insistently scratch at FT of [L], PO > signer, FO down, with zz and head tilted back.

sore/ulceration on one's ~

NDH [1], PO > DS, FO away, represents penis, and DH is held against DS of NDH, opening from [S] to [5:] to represent the growth.

vaginal culture

[X] scrapes FT against inside rim of [L], FO down, PO towards + ANALYZE.

vaginal mucous membranes

VAGINA + with NDH held in place from the previous sign, DH G-CL has thumb travel along the inside edge of it + WET.

valence

V-A-L-E-N-C-E.

valid

(1) APPROPRIATE. (2) V-A-L-I-D.

validation

(1) MAKE APPROPRIATE. (2) MAKE V-A-L-I-D.

validity

(1) APPROPRIATE. (2) V-A-L-I-D-I-T-Y.

valium

(1) V-A-L-I-U-M. (2) "V".

valley

(2h)[Bb], POs down, FOs away, touch sides, separate and rise to show sloping sides.

Valli, Clayton

Thumbside of [V] touches DS of chin twice.

value

~ (color, math)

(1) (2h)[flat F], POs><, FOs away, tap thumbs together twice. For a QuickTime movie of this sign, see ASL browser - value. (2) (2h)[V], POs down, FOs away, tap against one another, separate while rising and tap again.

~/~s (Sociology)

CHERISH+, that is, (2h)[5:], POs > signer, are held at respective sides of chin and close while moving down slightly: this is repeated without a pause between.

~ (v)

CHERISH, that is, (2h)[5:], POs > signer, are held at respective sides of chin and close while moving down slightly.

plug in (the ~, math)

VALUE, REPLACE++.

value added

VALUE ADD(ED)-TO.

valve

[B], FO away, flops on S. For a QuickTime movie of this sign, see ASL browser - valve.

vanadium

"V". For more information on this and other elements, see The elements. And for fun, see Elements by Tom Lehrer. To see this song with captions, go to The Elements song by Tom Lehrer.

van Gogh, Vincent

Since he was Dutch, this Dutch sign might be useful: [C dot], PO > back, moves down side of face as if cutting off the ear. From http://www.effathaguyot.nl/index.php?stab=1&signfirst=V (Effatha - Gebarenboek), which is no longer extant.

vanilla

(1) "V". For a QuickTime movie of this sign, see ASL browser - vanilla. (2) [V] rubs wrist against [S], PO down.

vanishing point

V-P.

vanity

~ (of spirit)

(2h)[V], look signer up and down as if s/he were really "something".

(everything is) ~

WORTHLESS.

var

V-A-R.

variable

~ (adj)

(1) VARY CAN. (2) V-A-R.

~ (n)

(1) V-VARY'small movement'. (2) VARY CAN. (3) VARY. For a QuickTime movie of this sign, see ASL browser - variable.

variable capacitance diode

V-C-D.

variable crystal oscillator

V-X-O. Note: the "X" is "chi" the first letter in the Greek word for crystal.

variable frequency oscillator

V-F-O.

variable star

STAR CHANGE++.

variance

~ (general)

V-A-R.

~ (of population)

Draw the shape of a lowercase sigma () in the air with the index finger + SECOND 'superscripted'.

~ (of sample)

"S" + SECOND 'superscripted'.

vary

(2h)[1], POs down, FOs away, hands start with FT touching and then alt. ascend and descend while separating.

vas deferens

TESTICLES + (2h)[open F], POs up, FOs away, pronate while moving away.

vasectomy

(1) (2h)V-CL cut tubes at sides of pubic area. (2) (2h)[X dot] ties tubes at pubic area. For a QuickTime movie of the of this sign, see ASL browser - sterilization. (3) (2h)V-CL cut tubes at pubic area, then (2h)[X dot] ties tubes at sides of pubic area.

Vashti (Jewish)

V-A-S-H-T-I

vault

~ (ceiling)

(2h)[B^] touch FTs and move over head.

~ (jump)

[S] shoots out into a [V] as it jumps over [1], PO down, FO > DS.

~ (safe)

ROOM is signed with slow deliberate movement to show the large scale + (2h)[S] grasp the spokes of a turnwheel and turn it with effort.

Vayikra (Bible)

L-E-V.

veal

V-E-A-L.

vector

~ (disease)

CARRY DISEASE.

~ (math)

"V" shaken below NDH [1], PO down, FO > DS.

An alternate method is to add the negative of a ~, which is a ~ with the same length but pointing in the opposite direction

Use the left hand for vector A and point the index finger in the appropriate direction. Now place the end of the right hand index finger (representing B) against the FT of the left hand. This represents A + B. To show the addition of the negative of B, rotate B around 180o while still in contact with the FT of the left hand and now you have A - B. This is the vector D which begins at the tail of A and ends at the head of B.

the A ~

"A" shaken below NDH [1], PO down, FO > DS. Note: Any letter may be substituted for "A".

adding ~s

VECTOR ADD-HORIZONTALLY.

adding ~ tail to tip

use index fingers to represent vectors, with the bottom knuckle as the tail.

addition of components

PART"each" ADD-VERTICALLY"each".

the result of the ~ addition is the diagonal of a parallelogram with sides A and B

Draw a parallelogram with both hands that starts at the far apex, both hands come to the close apex, and then with the NDH held in place, the DH moves from the close apex to the final, showing the diagonal.

The tail of one ~, in this case (A), is moved to the head of the other ~ (B). The vector sum (C) is the vector that extends from the tail of one vector to the head of the other.

Use the index fingers of each hand to represent the vectors, with the tip of the finger being the head of the arrow and the knuckle being the tail. A, 1-CL'show the angle of vector A and hold it there.' B (italics means use the NDH), 1-CL'place the index finger against the knuckle of the DH hand to show tip to tail'. Keep the NDH as a placeholder and draw a line with the DH index finger from the knuckle of the NDH to where the DH FT was. Now sign THAT* TOTAL. Note: TOTAL is (2h)[5], NDHPO up, DHPO down, FOs away. Hands interchange POs, close to (2h)[O^], and end by touching FTs.

the ~ A

"A" shaken below NDH [1], PO down, FO > DS. Note: Any letter may be substituted for "A".

Vedas

HINDU/INDIA HOLY WRITE+, where the second sign is H-NICE.

vehicle

CAR.

vein

[1] travels up arm to show path of blood.

velocity

~

(1) V-E-L. Don't sign FAST because velocity is a vector and speed is a scalar.

~ versus time

(1, at least initially to show the concept visually) Show the rectangular coordinate system by using an L-CL as the x,y-axis and sign 1-CL'moves along thumb which represents x-axis', TIME. 1-CL'moves along forefinger which represents y-axis', V-E-L. (2) (<) V-E-L, COMPARE (>) TIME.

change in ~ (V)

TRIANGLE "V", where TRIANGLE represents the letter "delta" ().

velocity dispersion method

"V" + [1] draws a Gaussian curve in the air + METHOD.

velocity of recession

V R"subscripted".

venereal disease

V-D.

venereal wart

[5:] places FT on pubic area.

Venezuela

[V^], PO > signer, twists out at eye level 2x. To see the reference source for the sign(s) for this country or to look up other countries in the same geographical area, see Indigenous signs for countries. To find signs for cities within this country (some have no entries) see Indigenous signs for cities.

venison

DEER MEAT, where the first sign taps the thumbs of (2h)[5], POs away, against respective temples. For a QuickTime movie of this sign, see ASL browser - venison.

vent

~ (n)

(2h)[1] draws outline of vent + (2h)[B^], start with POs > signer, FOs ><, and FTs shoot out repeatedly to [B] to fan away whatever is to be vented.

~ (v)

(2h)[B^], start with POs > signer, FOs ><, and FTs shoot out repeatedly to [B] to fan away whatever is to be vented.

ventilation

(1) V-E-N-T. (2) Blow air from mouth while (2h)[B], PO > signer, FO down, brush away from signer.

ventricle

[O^] opens open to [5^] when it pumps. As a mnemonic (memory aid) imagine an "A" (atrium or auricle) opening down because it is wide at the bottom and a "V" (ventricle) opening up because it is wide at the top.

verb

~

[V], PO down, FO > NDS, brushes against the chin twice while moving > DS. For a QuickTime movie of this sign, see ASL browser - verb.

inseparable ~

(1) SEPARATE CAN'T. (2) NOT SEPARATE POSSIBLE.

intransitive ~

"I" "V".

separable ~

(1) VERB, SEPERATE CAN. (2) SEPERATE POSSIBLE VERB.

transitive ~

"T" "V".

verbal

WORD"each".

verbatim

WORD"each".

verdict

COURT DECIDE.

verification

PROVE++, that is, (2h)[B], POs up, FOs away, DH taps on palm of NDH several times.

verifier

PROVE MACHINE, where the first sign is, (2h)[B], POs up, FOs away, DH slaps palm of NDH from above once.

verify

PROVE, that is, (2h)[B], POs up, FOs away, DH slaps palm of NDH from above once.

vernier calipers

V-E-R-N-I-E-R + [bC], PO > NDS, FO up, taps thumb and index finger together 2x.

Versa module Eurocard

-V-M-E.

verse

[G], FO up, runs FTs along palm of NDH, [B], PO > DS, FO away. For an animated gif of this sign, see Animated dictionary of religious signs - Deaf Missions: Verse.

versus (criminal justice)

CHALLENGE. For a QuickTime movie of this sign, see ASL browser - versus.

vertebra(e)

INDEX-spine + (2h)V:-CL, DH is held above NDH, then DH only moves up.

vertebral canal

(2h)[V:], POs <, FOs away, NDH touches under chin and DH touches NDH from below and then descends while punching forward slightly to show the separate vertebrae in the neck + INSIDE.

vertebral disk

(2h)[V:], POs <, FOs away, DH touches NDH from below and then descends + holding NDH in place from the previous sign, shove [bC] under NDH as if supplying it with a disk.

vertex