Introduction to the ASL translations of the Jewish services1
David Bar-Tzur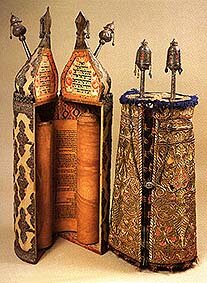 I am beginning the long process of translating what I can of the Jewish services. This is a huge undertaking and I hope I can be of service to those who interpret Jewish services into ASL. Your feedback is always welcome. Please contact me at There is no standard way to write out ASL, but I have used a modified Cokely/Baker notation which is explained in Explanation of glossing system used. I hope to continue to expand and improve this site, and I hope you can be partners with me in this venture through your feedback.
Part of the services are done in silence or more accurately with the congregation quietly mumbling the words to themselves to make the prayer active, rather than a mere passive reading. The reader will start off a section with the first sentence or so and then become quiet. I have translated what is heard and when the congregation continues in an undertone, I usually sign CONTINUE PRAY SILENT. When that section is finished, the leader will say the last few sentences of that section and that is also translated after the ellipses (. . .). The glosses for signs that are not standard are given a footnote that can be clicked on, which will take you to an explanation.
---
Image credits
1. Nurit Reshef: Saturday prayers page.