Deaf cultures and Sign Languages of the world: United Arab Emirates (دولة الإمارات العربية المتحدة)
Created 10 April 2000, links updated monthly with the help of LinkAlarm.

David Bar-Tzur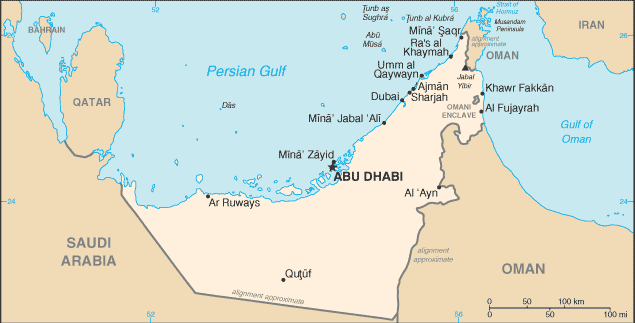 Flag: World flag database.
Map: Perry-Castañeda Library Map Collection.
For a quick, interesting resource for facts about this and other countries,
try Mystic Planet - The New Age directory of Planet Earth.
Note: A flag next to a link shows what language the website is in. If it is followed by this icon: (

), it is a video in that spoken language. A flag followed by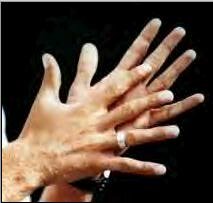 means it is in the sign language of that country.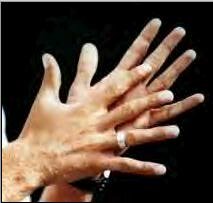 means there is International Gesture.

Bathish, H. M. (2004, January 30). Glove in hand may open up new world for deaf and dumb.
Blogs and vlogs-->
Deafblind

Al-Gazali, L. I. (1998). A Genetic Aetiological Survey of Severe Childhood Deafness in the United Arab Emirates. The aim of this study was to provide a genetic aetiological survey of children attending classes for the deaf in the United Arab Emirates (UAE) in whom a known acquired cause for their deafness had been excluded. Four schools in four different Emirates participated in the study (Sharjha, Khor Fakan, Dubai and Al-Ain). In each child a detailed history was obtained. This included a detailed family history, the level of consanguinity between the parents, ethnic origin, and the age of onset and progression of the deafness.

Al-Hilawani Y.A. (2003, April). Clinical Examination of Three Methods of Teaching Reading Comprehension to Deaf and Hard-of-Hearing Students: From Research to Classroom Applications. Journal of Deaf Studies and Deaf Education, Volume 8, Number 2, April 2003 , pp. 146-156(11), Publisher: Oxford University Press. This study shows how to integrate research-based teaching methods in reading comprehension with real classroom teaching activities. The performance of 30 male (n = 13; mean age = 11.51 years) and female (n = 17; mean age = 12.11 years) deaf and hard-of-hearing students from the United Arab Emirates (UAE) was examined under three teaching conditions: the key word strategy, modified reciprocal teaching, and the basic reading approach. Analyses showed that the key word strategy and modified reciprocal teaching significantly enhanced students' overall performance in reading comprehension scores. Results revealed that any one of these three methods would be adequate for teaching factual information. However, results indicated that the key word strategy and modified reciprocal teaching would be better for teaching factual information, comprehension, and memorization skills than the basic reading approach.

Gaad, E. E. N. & Qaryouti, I. A. (2002). Effects of using computers in teaching first grade deaf children in United Arab Emirates.

The main idea of the study was to examine the assumption that using computers in teaching deaf and those with hard of hearing children results in better performance than using traditional methods of education with no access to computers when teaching a standard subject.

Salem-Al-Ameri, M. A. E. (2007, October 19). Finding hope for a deaf child. UAE national, Mariam Ahmed Sawad Salem-Al-Ameri, narrates the heart-wrenching experience of having a child with hearing impairment. It is also a saga of courage and help coming from unexpected quarters. - Our first son, Yussuf, was diagnosed as being deaf when he was four months old. We lived in Dubai, where my husband worked for an airline. Yussuf had an ear infection, and did not seem to be making any verbal sounds.

YouTube - Blueyez8881's Videos.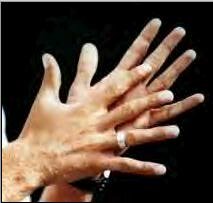 Gulf News. (2007, April 29). Access to treating the deaf is limited. Children born in the Middle East have double the prevalence of deafness at birth, compared to their US counterparts, but less access to new treatments that may restore their hearing, a specialist in the UAE has said. "The incidence of deafness in the Middle East is two out of every 500 live births, while in the West it is one out of every 500 births," said Dr Muazz Tarabichi, an Ear, Nose and Throat Specialist at the American Hospital Dubai. He was speaking at a Deafness Week Seminar organised by the College of Information Technology, University of Wollongong in Dubai and the American Hospital in Dubai.

Youssef, M. (2003, April 4). UAE aid for Pakistani school for the deaf. The UAE Red Crescent Society, RCS, has delivered to the Pakistan National School for the Deaf, PNSD, a material assistance, including two buses and computers. The UAE Consul General here, Mohammed Hareb Bal Redha Al Muhairbi, on behalf of the UAE Ambassador, Mohammed Hammad Al Shamsi, presented the items to the PNSD board chairwoman, Dr. Huma Sheikh, in a symbolic ceremony held here at the UAE Embassy. Al Muhairbi told the Emirates News Agency, WAM, that the assistance was in line with the directives of President H.H. Sheikh Zayed bin Sultan Al Nahyan, and the personal follow up of Minister of State for Foreign Affairs, Sheikh Hamdan bin Zayed Al Nahyan, who is also the Chairman of the UAE Red Crescent Authority.

Youssef, M. (2007, November 18). Emirati invents easy SMS for the deaf and dumb. Abu Dhabi: An Emirati man has invented a simple text messaging service (SMS) for the deaf and dumb and his main goal is not to make money but for this invention to become a mainstream project.

الحلقة الرابعة من جولة "شاعر المليون"2" جولة "الدمام" حملت رسالة إلى "الصم والبكم.

United Arab Emirates University _ Academic Programs & Curricula Catalog 2003-2004.

(2006, April 5). Sharjah City for Humanitarian Services gives Sign language lessons. Sharjah City for Humanitarian Services care for special needs persons, and the will to look after them motivated Al Amal School for Hearing Impaired to organize a training course for sign language. The course was given by Mr. Salah Uooda, the sign language translator in Sharjah TV.

Bar-Tzur, D. Indigenous signs for cities: United Arab Emirates.