Deaf cultures and Sign Languages of the world: Syria ()
Created 10 April 2000, links updated monthly with the help of LinkAlarm.
David Bar-Tzur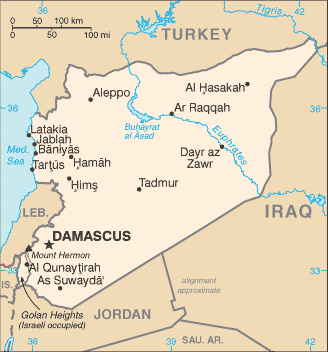 Flag: World flag database.
Map: Perry-Castañeda Library Map Collection.
For a quick, interesting resource for facts about this and other countries,
try Mystic Planet - The New Age directory of Planet Earth.
Note: Flag next to a link shows what language the website is in. This is sometimes obvious by what country the link is for or the fact that the title is in English. If I feel it may be ambiguous, I have tried to clarify by using a flag. This is done so that people can read sites in the language of their choice.

AttayaForDeaf.

Orthodox Archdiocese of Aleppo-Syria. نداء لطفل أصم; أسباب وأنواع الصمم ... الشخص الأصم غير متخلف عقليا ً هو فقط أصم (غير قادر ...

Sign Wiriting in the Arabic nations. Egypt, Jordan, Saudi Arabia & Syria.

World deaf directory - Syria.

World Federation of the Deaf membership information: Syrian Federation of Societies for the Welfare of the Deaf. Contact info only. Click on "S" and scroll down to the country name.

أطفال الخليج >> لغة الإشارة بين ... ... من دولة إلى دولة، من أصم صغير إلى أصم بالغ، من أصم لم تقدم إليه خدمات تعليمية إلى آخر ...

المنتدى الثقافي لذوي الاحتياجات ... (إذا كان الشخص أصم أبكم, أو أعمى أصم, أو أعمى أبكم وتعذر عليه بسبب ذلك التعبير عن إرادته ...