Deaf cultures and Sign Languages of the world: Mongolia (Mongol Uls)
Created 10 April 2000, links updated monthly with the help of LinkAlarm.

David Bar-Tzur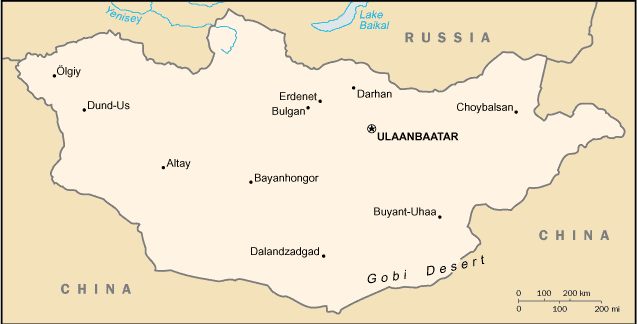 Flag: World flag database.
Map: Perry-Castañeda Library Map Collection.
For a quick, interesting resource for facts about this and other countries,
try Mystic Planet - The New Age directory of Planet Earth.
Note: Flag next to a link shows what language the website is in. This is sometimes obvious by what country the link is for or the fact that the title is in English. If I feel it may be ambiguous, I have tried to clarify by using a flag. This is done so that people can read sites in the language of their choice.

Enabling Education Network. Deafness and the development of communication skills in developing countries: Examples from Mongolia and Nepal.

IDCS. International Deaf Children's Society - Project details. This project aims to encourage the use of Mongolian Sign Language as a language of instruction for deaf children as well as to offer educational support to deaf children from disadvantaged backgrounds in and around UlaanBaatar.

McGilp, H. International Deaf Children's Society - Helga McGilp. My journey to Mongolia started on the Trans-Siberian from St Petersburg to Ulaanbaater. One thing I regretted leaving behind were addresses of deaf schools. Of course no journey would be worthwhile or pose a challenge without experiencing some difficulties along the way!

Mongolia Deaf Directory.

Mongolian Sign Language: A language of Mongolia.

Nance, W. E., Erdenetungalag, R., Radnaabazar, J., et al. Estimation of the frequency of genetic deafness in Mongolia with a genotype index.

South Asian linguistics - Sign languages (All dialects).

Word Deaf directory - Mongolia.

World Federation of the Deaf membership information: Mongolian Association of the Deaf. Contact info only. Click on "J-M" and scroll down to the country name .