Deaf cultures and Sign Languages of the world: Luxembourg (Luxembourg)
Created 10 April 2000, links updated monthly with the help of LinkAlarm.

David Bar-Tzur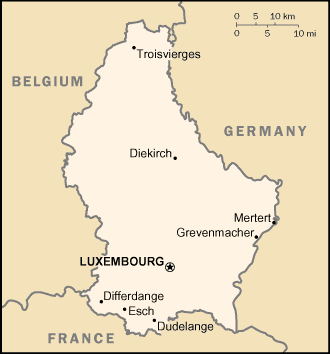 Flag: World flag database.
Map: Perry-Castañeda Library Map Collection.
For a quick, interesting resource for facts about this and other countries,
try Mystic Planet - The New Age directory of Planet Earth.
Note: Flag next to a link shows what language the website is in. This is sometimes obvious by what country the link is for or the fact that the title is in English. If I feel it may be ambiguous, I have tried to clarify by using a flag. This is done so that people can read sites in the language of their choice.

Le Centre de Logopédie est une école publique prenant en charge et les enfants déficients auditifs et les enfants présentant des troubles sérieux du langage et de la communication. Pendant l'année scolaire 2004-2005 environ 210 élèves fréquentent les 10 classes de l'enseignement primaire et les 11 groupes de l'enseignement préscolaire et précoce. Une classe d'enseignement préscolaire du Centre de Logopédie fonctionne à l'école régionale de Hosingen.

European Association of Cochlear Implant Users - Luxemburg.

Luxembourg Deaf Directory.

VGSL - Startseite. Haupt Menu, Startseite, Das Neueste, Links, Fotos, Kontakt, Zur VGSL, Zielsetzungen, Statut, Komitee, Mitgliedschaft, Aktivitäten, Anmeldeformular, Benutzername.