Deaf cultures and Sign Languages of the world: Guinea (Guinée)
Created 10 April 2000, links updated monthly with the help of LinkAlarm.

David Bar-Tzur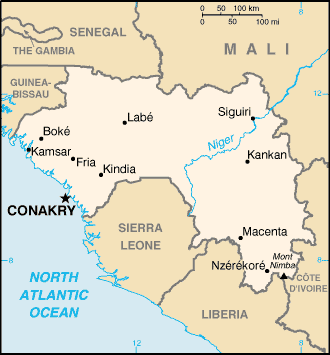 Flag: World flag database.
Map: Perry-Castañeda Library Map Collection.
For a quick, interesting resource for facts about this and other countries,
try Mystic Planet - The New Age directory of Planet Earth.
Note: A flag next to a link shows what language the website is in. If it is followed by this icon: (

), it is a video in that spoken language. If it is followed by this icon: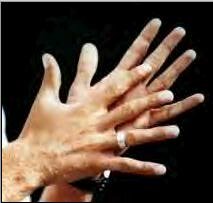 , it is in the sign language of that country. If a globe is followed by this hands icon, there is an animated text in International Gesture.

Government action on disability policy: A global survey, Part II - Government replies as country profiles: Guinea.

Camara, L. A. Rentrée scolaire 2006-2007 : L'ambiance dans une école des sourds-muets à Conakry. Dès 8 h du matin, les élèves des écoles primaires, secondaires et du lycée ont repris le chemin de l'école sur tout l'étendu du territoire national ce Lundi 22 octobre comme décider récemment par le ministère de l'Education nationale et de la Recherche scientifique. A l'image des autres écoles publiques et privées, de la maternelle au lycée, l'école des sourds muets n'est pas en marge de cette reprise des classes de l'année scolaire 2006-2007.

Diallo, J. (2007, December 18). LES SOURDS-MUETS EN GREVE A CONAKRY. Les élèves de l'école des sourds-muets de Boulbinet sont en grève depuis ce lundi dernier. Des meilleures conditions d'études, le départ du directeur sont entre autres revendications des élèves de cet établissement scolaire fondé depuis 1964. C'est la deuxième grève de l'école des sourds-muets de Conakry depuis sa fondation en 1964. La première déclenchée en mars 2004 était fondée sur des points de revendication qui n'ont pas été respectés selon les élèves. Des revendications qui s'articulent autour de la mauvaise gestion de l'école, le détournement des subventions accordées par l'Etat à cet établissement ainsi que la vente des matériels didactiques destinés aux élèves de ce centre.

Guineenews - La manifestation des élèves de l'école des sourds-muets ralentit le cortège présidentiel devant le Petit palais (photo).

Surdité en Afrique. 9. GUINEE: École des sourds muets, Ministère des Affaire Sociales, Conakry

Miles, M. (2005). Deaf people living and communication in African histories, c. 960s - 1960s. There is strong documentary evidence that deaf or hearing impaired men and women, girls and boys, did occupy social space and took roles across the full spectrum of life throughout Africa in earlier centuries, living lives like everyone else and also having some different experiences. Traces and signs of deaf people appear in many sorts of historical document, such as travellers' accounts, legal and genealogical records, government, institutional and missionary archives, linguistic studies, literature, folklore, religious narrative, mime, dance and drama. Many of their experiences have involved severe economic poverty and adversity, stigmatising attitudes and exclusionary practices; yet this has not been the norm everywhere in Africa, and many deaf people have shown great resilience, perseverance, humour and ingenuity in their dealings and communications with the non-deaf world.

Guinean Sign Language: A language of Guinea.

World Federation of the Deaf membership information: Association Guinéenne des Sourds - Muets (AGSM). Contact info only. Click on "F-I" and scroll down to the country name.