Deaf cultures and Sign Languages of the world: Fiji (Fiji)
Created 10 April 2000, links updated monthly with the help of LinkAlarm.

David Bar-Tzur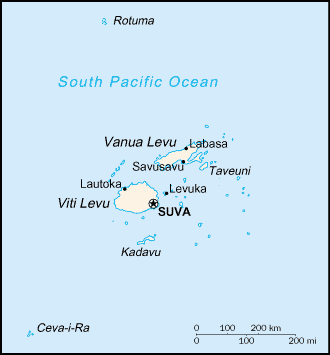 Flag: World flag database.
Map: Maps.com - "search" for country, then "Digital Map Graphics"). OR
Map: Perry-Castañeda Library Map Collection.
For a quick, interesting resource for facts about this and other countries,
try Mystic Planet - The New Age directory of Planet Earth.
Note: A flag next to a link shows what language the website is in. If it is followed by this icon: (

), it is a video in that spoken language. If it is followed by this icon: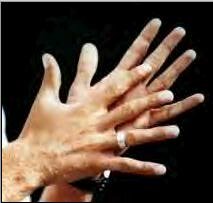 , it is in the sign language of that country. If a globe is followed by this hands icon, there is an animated text in International Gesture.

DeafTODAY. (2004, August 30). Deaf students design cards for a living. A group of deaf and mute students are out to make a living for themselves by producing handcrafted cards, which will be sold from selected outlets soon. What started as an art class for the youths in Lautoka a few weeks ago, is today a budding business which will earn them a few dollars at the end of the week.

DeafTODAY.
(2003, June). New bus for deaf students.Twenty-four students from the Gospel School for the Deaf yesterday took a ride in their brand new school bus donated by the Embassy of Japan.
(2003, January 9). Couple teaches deaf students on Fiji.Jim and Marilyn Cooney... have spent the past year living in the city of Savu to establish a standard protocol for teaching and mentoring future teachers who work at a four-year-old school for deaf students. The Cooneys are both trained educators in sign language and deaf culture...

Kete's fiji diary: tropical medicine. The Fiji Association of the Deaf where I work has been lobbying the government to pay for an Interpreter who works at one of the schools interpreting for 3 Deaf students. This is the first time that so many deaf students have progressed onto high school at one time. To date she has not been paid by the Ministry of Education for her work so she has been trying to survive on what she can. In desperation, FAD approached the Fiji Development Bank to see if they could help. They have agreed to pay her for 6 months as part of their community profile and wanting to be seen to help the community.

krisnite. (2007, July 30). Fiji & Samoa.

NDCS. (2007, January 15). Fiji Deaf Hope. Fiji is composed of many different islands. This means that families of deaf children living far from urban centres are often isolated and have very little knowledge of the needs of their deaf child. A high number of deaf children are not in school and often do not receive any form of support. This project aims to reach out to these families and provide them with information on deafness and Fijian Sign Language as well as encourage them to send their deaf child to the Gospel School for the Deaf, the only school for the deaf in the whole of Fiji.

Shettle, A. (2004, Spring). Deaf Children with Additional Disabilities in Developing Countries, Fiji.

The Gospel School for the Deaf in Suva, Fiji. The school was set up nine years ago and, until mid-2005, none of the children wore hearing aids. It appears that the initial funding for the school came as an initiative from its founder, a lady called Viviane Harland, who has a profound hearing loss and who began teaching deaf children in her home. She was successful in raising the money to build the school which is a three-storey modern building with pleasant classrooms. She has close links with the Fijian Deaf Association and the teaching staff have some connection with this organisation. The medium of instruction is a Fijian version of British/Australian Sign Language.

(2003, December 10). Deaf Association lobbies for special telephone system.

(2005, June 21). Fiji Association of Deaf gets Australian aid.

DeafTODAY. (2005, May 6). Deaf players in volleyball tourney. Serevi Roko will manage the Flock team of deaf players to the first Under-19 volleyball tournament. Fiji Volleyball Federation president Elesi Ketedromo said they were pleased to have the deaf boys from the Fiji Disabled Association.

Deaf Baptist Fellowship Store Page 4. Scroll down: FIJIAN SIGN LANGUAGE: VOL I & II (Fijian Sign Language I Book by Dr. Don Cabbage is used in the Fiji. over 500 word illustrate vocabulary study of Fijian Sign Language with over 180 pages. The artist is Victor Palma.)

Hearing Loss News and Reviews. (2005, September 8). Deaf compile own sign dictionary.

FOOTPRINTS - Project: Provide two sign language interpreters for deaf students, FIJI.

Fiji: Interpreters sit signs course.

Fiji Association of the Deaf. Contact info only.

Ministries. Scroll down to "Fiji Deaf Ministry, G.P.O. Box 17612, Suva, Fiji Islands, , Gospel School for the Deaf, Student Hostels, Deaf Church,camps,outreach to other areas."

The Carabez Alliance has been formed to help Fijian, Samoan and surrounding Pacific Island deaf children, in conjunction with the 'Gospel School for The Deaf', Senese School, Loto Tamafi and Fia-malamalama Schools, to achieve their full potential in excellence in education, so that they may fulfill their aspirations of a fruitful and limitless life.