Deaf cultures and Sign Languages of the world: The Faröes (Føroyar)
Created 10 April 2000, links updated monthly with the help of LinkAlarm.

David Bar-Tzur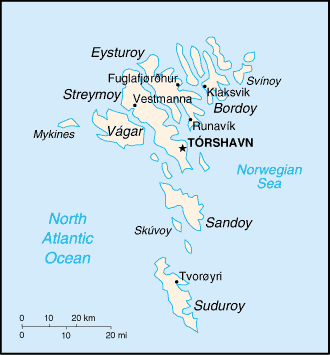 Flag: World flag database.
Map: Perry-Castañeda Library Map Collection.
For a quick, interesting resource for facts about this and other countries,
try Mystic Planet - The New Age directory of Planet Earth.
Note: Flag next to a link shows what language the website is in. This is sometimes obvious by what country the link is for or the fact that the title is in English. If I feel it may be ambiguous, I have tried to clarify by using a flag. This is done so that people can read sites in the language of their choice.

Deyvafelag Føroya (The Faroese Deaf Association).



Nu har Døveforeningen på Faerøerne også fået deres egen hjemmeside. Den er under udvikling.

Teknmálstulkatænastan er ein sjálvstýrandi eind undir Almanna & Heilsumálaráðnum, sum kann veita tulk til alt slag av samskifti, har deyv/hoyribrekað og hoyrandi møtast, og har almenn upplýsing og tiltøk fara fram. Tulkað verður millum føroyskt & danskt teknmál og føroyskt & danskt talumál. Í ávísum førum verður eisini tulkað millum norðurlendsk & enskt talumál.